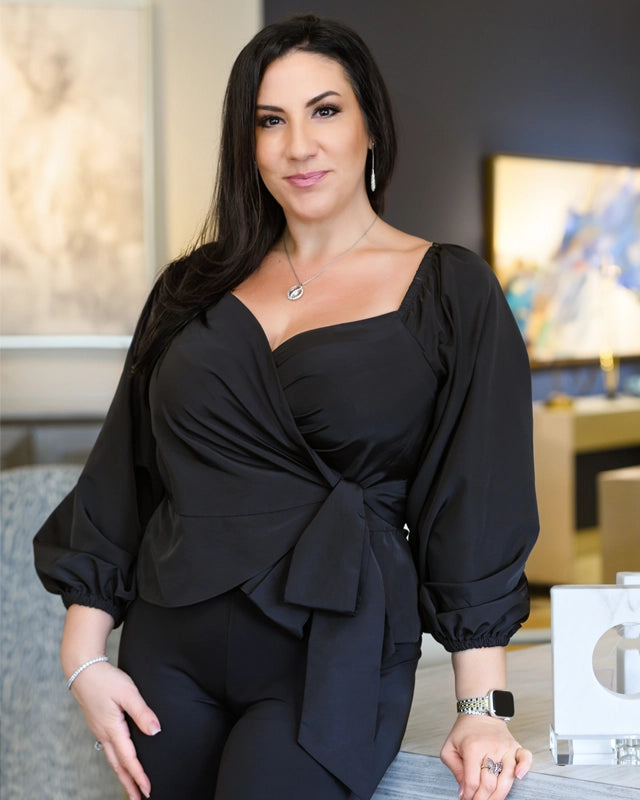 Angela DiFranceisco
adifranceisco@norrisfurniture.com
239-690-9844, Ext. 156
Back
"My favorite design style is mixing the old with the new. I love using bright, bold saturated colors with neutral furniture to create a timeless look. My passion is to create beautiful rooms that not only inspire my clients but give them a comfortable and functional space for many years to come. My advice to you: Always go with your first choice, your initial instinct is usually right!"

Angela brings over 19 years of experience and a strong set of credentials to every project she takes on. She's a graduate of the prestigious Art Institute of Philadelphia, where she graduated top of her class with a Bachelor of Applied Science in Interior Design.

Angela has had the opportunity to design stunning homes in New Jersey, Philadelphia, and now in her beloved Florida, where she calls home. She has been a part of the Norris family for the past 7 years, and her work has even been featured in the Annual Gulfshore Life Magazine.

But what truly sets Angela apart is her artistic flair and unwavering passion for color and design. When working with Angela, she goes above and beyond to bring her clients' vision to life. She starts by hand sketching the ideas, accompanied by a thoughtful floor plan. This important step not only helps her clients visualize the concept but instills confidence in the design process.

You can trust Angela to deliver the dream home you've always envisioned. Her passion and skill are unmatched, and we know you're going to love working with her. So, let's get started on creating the beautiful space you truly deserve!
Domnick Minella
dminella@norrisfurniture.com
Back
"Design is artistic, and it requires creativity and knowledge of the design process. It is also essential to communicate with the client, to understand their desires and make them comfortable throughout the entire process. Seeing everything from the customer's eyes is key to creating a design they will love, and nothing is more rewarding than having a customer that is ecstatic about their finished product."

With 40 years of experience in the business, Domnick is an interior design expert. As a young child, he recalls watching his mother decorate, and exploring the styles and pieces that she incorporated into their home. He developed an aptitude in communication while selling door-to-door as a child and applies that experience to enrich relationships with his clients to this day.

Domnick specializes in traditional settings and is passionate about renovating older homes in order to bring back to life its original structure while ensuring the original beauty and character of the home. He finds insight from trade magazines and resources that are unique to our area. He follows designers such as: Tobi Fairley of CR Laine, Michael Weiss and Thom Filicia of Vanguard Furniture, Larry Laslo and David Easton of Chaddock for inspiration.

A leader in the field of interior industry, Domnick is a past chairman of the board for the Fort Myers branch of the Interior Design Society and continues to serve on the board of directors. He enjoys sharing his expertise with his colleagues and helping them enhance their ability to please the customer.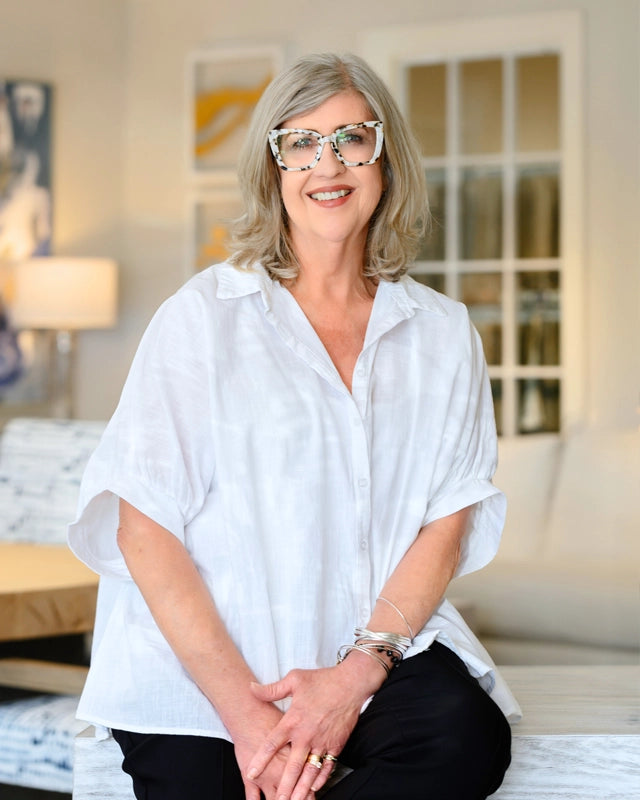 Luanza Maitland
lmaitland@norrisfurniture.com
Back
"My favorite part of this business is the relationships between clients and co-workers that I have formed along the way. No project is the same. It is ever-changing and always challenging. A great compliment I received recently was from a client upon entering his living room for the first time where he stated: "Now that's home!". This is the type of comment that makes me love what I do every single day. I thoroughly enjoy the creative process - putting all the pieces together and seeing the end result."

Luanza's clients bring their family lifestyle needs and wants into the design. Together she helps them create their home. It is fun to incorporate favorite pieces of stunning artwork into their design. By working closely with her clients, she ensures their vision is realized. Whether Luanza is designing a customer's residence or model home, each space requires the attention to function and livability. Luanza takes great pride in her ability to incorporate different and fresh ways to create beautiful spaces.

With over 30 years in the field, Luanza began her career working for a small model merchandising company. Working closely with architects, builders and the trades has always been her strong suit. Her experience with the building industry is a real plus and this experience helps her clients through the building and remodeling process.

Luanza specializes in new construction, model merchandising, remodeling, and Clubhouse design. Her dedication and passion for design has been recognized in the industry. She is the winner of multiple Aurora, Pinnacle and Sand Dollar Awards. Her work has also been recognized in Gulfshore Life Magazine and Home and Design Magazine.
Susan Frank
sfrank@norrisfurniture.com
Back
"Having fun with the customer is such an important aspect to the design process and can make a huge difference in the end result. I am lucky to have been blessed with wonderful clients that are enjoyable to work with, and I truly love getting to know new clients and building relationships that will transform into a loyal and long-lasting partnership."

Susan was able to try her hand at design in a previous work environment and quickly discovered her love of interior design and her natural talent for the design process. She soon realized how her instinctive creativity enabled her to flourish in this field, and this revelation launched her into a 19-year-long career. She has always enjoyed using her creativity and was quickly able to see how to fashion a space that will truly inspire and fit the needs of her clients while surrounding them with beautiful items that they will love.

Susan specializes in transitional décor which is a blend of traditional and contemporary styles. She enjoys finding inspiration from fabrics, magazines, online resources and, most importantly, her clients. She enjoys assisting her clients in designing a space that fits their needs and getting to know her clients and understanding their personal preferences is always her top priority. She is grateful for the wonderful clients that she has worked with, and she enjoys making the design process a fun experience for them and using their time together as an opportunity to build a long-lasting relationship.

Susan's work has been showcased in both Grandeur Magazine as well as Gulf and Main Magazine.
Madeline Lupo
mlupo@norrisfurniture.com
Back
"Design is the blending of critical thinking and artistic vision….making sense of the unknown. Communication and mutual understanding are the key for a fabulous journey throughout the process of rendering your home special. A home you can wrap around oneself nourishing the spirt and delighting the senses."

Madeline is a graduate of the Metropolitan School of Interior Design in New York. Her background also includes the study of window treatments and upholstery design, application and production at Custom Home Furnishings in North Carolina. Madeline has also studied acoustic design applications and home automation.

She is the type of designer that enjoys discovering inspiration that ignites all sorts of design possibilities specific to her client's lifestyle. Madeline's independent and retail design experience is all inclusive enabling her to connect with her clients for all their home furnishing needs.

Madeline has been published in Home & Design magazine in Naples for Model Merchandising a 2,800 condo in the then new WCI Cove Towers in North Naples.

Madeline is known for spontaneously 'paying it forward' to make someone happy. When time permits, she loves to compose music, is a vocal enthusiast, is a lover of nature, geology and so much more! However, what brings her the most joy is sharing love and laughter with her husband and two grown daughters - and… we can't leave out her furry love pup and two furry grand pups.

With nearly 30 years in the interior design industry, Madeline's passion for the industry continues to grow - she is always learning and finding ways to stretch her imagination and creativity!
Meghan Quigley
mquigley@norrisfurniture.com
Back
"Design begins with a blank canvas. I then add color, texture and art and build from there! Do you prefer trendy or classical styles? Is it style, function, lifestyle, or all that are important? I am ready to get to know you and your design style. Let's do coffee and create!"

Meghan graduated from the Fashion Institute of Technology in NYC with a degree in Fashion Buying and Merchandising where she had the opportunity to learn from some of the best designers. Living in the city that never sleeps, Meghan continued to build her fashion and merchandising skills, igniting her passion for interior design. She relocated to Long Island near Jones Beach to raise a family and utilized her passion and design skills to create her first dream home.

Building rapport with her clients comes naturally to Meghan. She prides herself in developing strong relationships, listening to her clients, making them feel at ease and eliciting their trust. Meghan will take the time to understand her clients likes and dislikes, making the process fun and relaxing. She also understands that each home and each client is unique and starts with defining her client's budget. Whatever your design style, color palette, and lifestyle needs, Meghan has the experience to help you define the very essence of your style and vision.

Meghan's commitment to her clients does not stop with her client's purchase. She maintains close communication with her clients throughout the entire purchase and delivery process - tracking deliveries to ensure every step is taken to make the entire experience enjoyable and stress free.

Recently, Meghan relocated to Southwest Florida after 50 years in New York to be closer to family and friends. Outside of work, Meghan enjoys event planning where she volunteers within her community. Her relaxation comes from her beach time -- enjoying the Gulf and beautiful sunsets here in Southwest Florida. In her spare time Meghan loves to travel and explore new places.
"My true inspiration comes from creating and delivering a beautiful home that meets my clients' design vision, meets their lifestyle and fits within their budget."

Michelle approaches each new design project as a blank slate making each of her designs a "one-of-a-kind" that her clients love. She accomplishes this by listening and thoroughly understanding the needs, wants and desires of her client. Each unique design caters to her clients' personal style, personality, and preferences.

Whether the project is traditional, modern, transitional, coastal, or farmhouse, Michelle has an eye for quality and a superior sense of style. Michelle breaks down exactly what her client wants. From bright colors and fringe -- to clean metal and modern, she is known for creating polished designs that are both beautiful and functional.

Michelle was born and raised in Naples, FL. Although she studied Criminal Justice at Florida Gulf Coast University, she always had a passion for design. Coming from a family working in construction, architecture, and sales, she was able to use that experience and turn her attention to her dream of design. She started her design career by creating homes with stock furniture pieces - but found that was too limiting and chose to pursue the broader spectrum of custom design. This landed her at Norris. Michelle has been able to fulfill her passion and deliver designs that exceed her clients' expectations.

Michelle loves to travel! Just getting in the car and seeing where the road takes her is one of her favorite things to do. She has driven across the country six times! When not designing beautiful homes, Michelle enjoys spending time outdoors -- paddle boarding, boating, and anything near the water. Another hobby of hers is canvas painting. Very close to her family, she thoroughly enjoys spending time with her three nephews - Nathan, Nicholas, and Noah.
Tamera Alvarez
talvarez@norrisfurniturecom
Back
"I am often asked, when did I decide to work in design? There was no choice but to follow my passion! The most rewarding feeling for me is to see the completion of a project through my client's eyes."

Tamera's creativity was nurtured early as a child. Her mother was an artist and an actress in their family owned theater, The New Vic Supper Theatre in Flint, Michigan. Her father was an engineer who not only worked behind the scenes, but also took the stage. Both contributed to a household of chaotic, yet creative fundamental design elements that were integral to Tamera's daily life.

Composition, color, texture & light have always steered her choices, whether in a theatrical set, a costume design or an interior design. Tamera studied Fine Arts at Ohio University and at Cranbrook Academy of Art in Bloomfield Hills, Michigan.

Tamera joined the Norris team in 2018 bringing over 40 years of commercial and residential design experience.